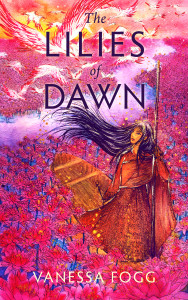 The Lilies of Dawn (fantasy novelette, 13,688 words).
Publisher's synopsis:
A lushly written, lyrical fairy tale of love, duty, family, and one young woman's coming of age.
There is a lake of marvels. A lake of water lilies that glow with the color of dawn. For generations Kai's people have harvested these lilies, dependent upon them for the precious medicines they provide.
But now a flock of enchanted cranes has come to steal and poison the harvest. The lilies are dying. Kai's people are in peril. A mysterious young man from the city thinks he might have a solution. Kai must work with him to solve the mystery of the cranes, and it will take all her courage, love, strength, and wisdom to do what she must to save both the lilies and her people.
"This book has absolutely beautiful story-telling and world building. . . if you love the feeling of good words and perfect phrases, if you love fragile, carefully-crafted magical worlds, this book is for you."–a review at Quills and Roses
Cover art by Likhain
Published as e-book and paperback from Annorlunda Books. Click on the publisher website for reviews and press!
Additional reviews at Goodreads.
Buy it as e-book: Amazon / BN.com / GumRoad / iBooks / Kobo / Smashwords
Buy it as paperback: Amazon / Createspace / BN.com
MORE PUBLICATIONS (most available to read free online)
Forthcoming
"Wild Ones" (fantasy, 2407 words). Bracken, Winter 2018.
"Kitchen" (fantasy, 3879 words). Reading 5 x 5 Anthology, TBA.
"Traces of Us" (science fiction, ~7000 words). GigaNotoSaurus, TBA.
"The Young God" (flash fantasy, ~1000 words). Kaleidotrope, TBA.
2017
"Taiya" (urban fantasy, 4053 words). The Future Fire, September  2017.
2016
"Of Milk and Blood" (dark fantasy/horror, 2428 words). Unsung Stories, December 2016.
"All the Souls Like Candle Flames" (mythic fantasy, 6816 words). Luna Station Quarterly, December 2016.
"The Wave" (science fiction, 6306 words). The Future Fire, June 2016.
"In Dew and Frost and Flame" (fantasy, 3301 words). Metaphorosis Magazine, June 2016. 
2015
"Knife and Sea" (flash fairy tale, 1005 words). Mirror Dance, December 2015.
"Moon Story" (fantasy, 3277 words). Mythic Delirium, Autumn 2015 issue.
"Disconnected" (science fiction, 3822 words). The Future Fire, March 2015.
2014
"The Berry Girl" (fantasy, 1838 words). Lakeside Circus, Issue 2, September 2014.
"Congress of Dragons" (fantasy, 5778 words). Mirror Dance, Autumn 2014 issue.
"Between Sea and Shore" (fantasy, 8430 words). GigaNotoSaurus, August 2014.
Earlier Work
"Immortal Life" (flash science fiction, 929 words). LabLit, June 2013.
"Snow's Daughter" (fantasy, 4950 words). NewMyths, Issue 22, April 2013.
"Unicorn" (slipstream, 1776 words). Melusine or Woman of the 21st Century, Spring/Summer 2010 issue, May 2010.
"Storm" (literary fiction, 1862 words). Literary Mama, April 2009.
REVIEWS/ESSAYS
Recommend: Feminist SF with POC protagonists. The Future Fire, May 2017.
–In which I discuss Ken Liu's fantasy series, The Dandelion Dynasty
INTERVIEWS 
Interview with author Gwendolyn Kiste on her author blog
Interview with author Mary Fan at her blog, Zigzag Timeline
Interview with the book review site, Books & Strips 
Interview with The Future Fire (as part of TFF's 10th anniversary blog carnival celebration)